Advanced MIDI Editing
One size does not fit all MIDI. Synthesizer piano rolls, programmed drum parts, multitimbral orchestral arrangements, drum hit correction, sample replacement, hardware sysex dumps, even karaoke programming and stage lighting instructions - it's all MIDI, but it's all specialized, and it all needs to be handled differently.
Both REAPER's built-in MIDI editor and the inline MIDI editor are fully customizable to let you arrange and edit any MIDI part in whatever way best suits you, and the part. You can customize color-coding, which data you see and which data you don't, editing behavior, how loops and tempo changes are displayed, named pitches, and a lot more.
Quick, accurate, and configurable tools like step sequencing, pattern copy/paste, quantization and humanization are available when you need them but don't get in the way when you don't.

Hardware and Software
Not all MIDI goes to the same place, either. REAPER offers total flexibility in what gets wired up to your MIDI parts. Multiple hardware controllers, virtual instruments, hardware synthesizers and sound modules can all be routed and processed with freedom and simplicity.
We've put special effort into making MIDI hardware timing and calibration as tight as it can be. Our merciless beta testing team has emptied whole closets full of dusty hardware. If it has wires, and you can connect those wires to your computer, you can run it with REAPER.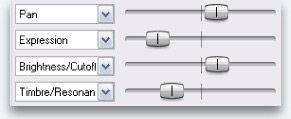 Free Routing, Free Processing
REAPER makes no distinction at the routing and processing level between MIDI and audio. That means you can apply any MIDI processing at any point in the signal chain, send MIDI as freely as audio, render MIDI track output as easily as audio output, even mix MIDI and audio processing together for creative sidechaining.
You can apply MIDI track controls or MIDI plug-ins at any point in the MIDI signal chain. REAPER comes with dozens of specialized JSFX MIDI plug-ins, and the included JS plug-in scripting engine makes it easy to write your own, if your needs are super-specialized.